The militants "LNR" announced the explosion of the car of the OSCE mission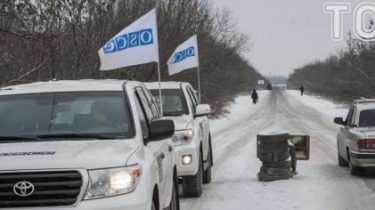 One person was killed in the bombing of the car of the OSCE SMM near the line of clashes in the Donbas.
This was referring to the so-called people's militia "LNR" the newspaper informs "RIA Novosti"
"Today, 23 April 2017, with the following two crews of SMM OSCE on the route Slavyanoserbsk — Sokolniki in the near the village of Prishib has been undermining one of the car observers, as the representative of the mission were killed and one wounded," — said the Agency interlocutor.
In militia specified that the vehicle hit an anti-tank mine. The mission confirmed the incident with the patrol, data on victims are specified.
We can confirm that an #OSCE patrol has been involve in a serious security incident in the Luhansk region. (1/2)
— OSCE SMM Ukraine (@OSCE_SMM) 23 quinia 2017 R.
However, the acting Chairman of OSCE, Minister of foreign Affairs of Austria Sebastian Kurz confirmed the death of one of employees of the patrol of the Special monitoring mission in Ukraine.
"Heartfelt condolences to the family of the deceased and team SMM. The death of a colleague is a shock to the entire OSCE," — said in a statement on Twitter.
Tragic news from #Ukraine: SMM patrol drove on mine. One #OSCE patrol member killed, one injured 1/3
— Sebastian Kurz (@sebastiankurz) 23 quinia 2017 R.
He added that he also hopes that "wounded the observer will soon recover".
"Just talked to the SMM head Ambassador (Ertugrul) Apakan: to conduct a thorough investigation. The perpetrators will be brought to justice," said Kurtz.
Just spoke to @OSCE_SMM Amb Apakan: Need thorough investigation; those responsible will be held accountable 3/3
— Sebastian Kurz (@sebastiankurz) 23 quinia 2017 R.
Comments
comments