In Ternopil under the walls of the city Council deputies scuffled: two deputies were taken to hospital with injuries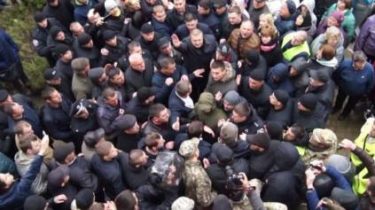 In Ternopil, the local "Svoboda" has blocked the entrance to city hall and staged a brawl at the walls of the building, according to a story TSN.16:45.
As it turned out, the deputies did not let the three former party members who were recently expelled from their ranks because of their position allegedly contradicted the party arrangements.
Deputies with the activists even pulled the trash to put ex-colleagues, but they prevented deputies from other parties and activists who came to support the exiled deputies.
After a short verbal altercation, the conflict escalated into a minor confrontation, the crush began, injuring two deputies from the bloc of Petro Poroshenko.
In particular, an unknown person threw an egg and hit in the eye Volodymyr Misicu and Yuri Smakota face was sprayed with tear gas. The injured deputies went to doctors.
Also because of the incident had disrupted a meeting of the session of the city Council.
According to the head of GU of the National police in the Ternopil region Alexander Mantis, the victims diagnosed with closed injury of the left eyelid and chemical burn of the eye, respectively.
Besides, the police received a group statement from members concerning obstructing activities of people's deputies of Ukraine and deputies of the local Council, which was initiated criminal proceedings, within it, law enforcement will establish and circumstances of bodily injury to the deputies.
Comments
comments