Kiev going on the defiled grave to honor Lesya Ukrainka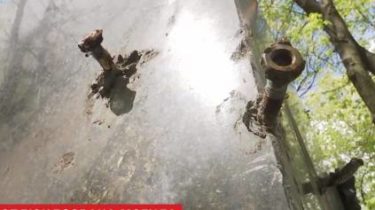 In Kyiv at the Baikove cemetery unknown desecrated the grave of Lesja Ukrainka. Vandals stole the bronze elements of the monument to the outstanding Ukrainian poet, says the story TSN.16:45.
According to the guards, to the place of burial of the writer, the criminals penetrated the night. With granite pedestal recaptured part of the bronze decoration and fled with the loot. At the scene police work.
The grave of Lesja Ukrainka – monument to the history of national importance. The poet was buried in the old bajkove cemetery in 1913. In 1939 the tomb established a bronze monument on a granite pedestal sculptor Galina Petrashevich. Now in a ruined tomb are citizens, to honour outstanding Ukrainian special memorial days. "To me it hurts. I came here, to me it hurts. Les, you forgive them for they know not what they do," said one of them.
Comments
comments