Mines on the route of the patrol of the OSCE in Luhansk was not to be – hug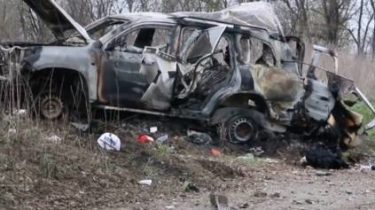 Anyone involved in laying mines in the explosion which killed one OSCE observers and injured two more, should be brought to justice.
This was at the briefing on 23 April, was declared by the Deputy head of SMM OSCE in Ukraine Alexander Hg, reports "Interfax-Ukraine".
According to him, the mines in the path of the patrol was never supposed to be. The road on which drove OSCE observers, is within 2 km of the front line. Earlier it was also used SMM patrols, and local transportation.
See also:
At the headquarters of ATO denied the militant's claims about the involvement of the military to undermine vehicles of the OSCE
Alexander hug said that according to the Minsk agreements, installation of minefields in the area of ATO banned and there is a need to remove the previously installed barriers.
We will remind, on April 23, in the explosion of the car of the OSCE near Prishib village in the occupied territory of the Luhansk region killed one member of the mission, two more got wounds. The mission said that six patrol moved in two armoured vehicles when the explosion occurred.
People's Deputy of Ukraine and member of the Board of the Ministry of internal Affairs of Ukraine Anton Gerashchenko said that the deceased was a citizen of great Britain Joseph stone. Agency Reuters citing the Austrian foreign Ministry reported that the victim worker, the OSCE was a U.S. citizen.
Also the explosion was wounded a German citizen Willow Gmelin. She was taken to a hospital in Lugansk, where she was provided medical assistance.
Comments
comments