Became known details of the shooting of the wounded in Kiev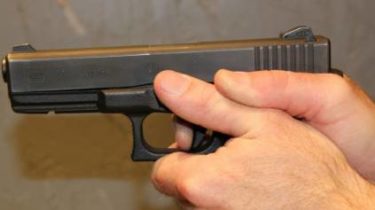 Law enforcement released details of the shooting of the wounded in Kiev.
About this in Facebook the head of the Department of communication in the Directorate of national police in the city of Kiev Oksana Blischik.
In the shooting in Kiev three people were in the hospital.
The event took place on the border of the Podil and Obolon districts: a conflict arose between the two companies. Previously it is established that two men were standing at the bus stop, four more came. Between them there was a conflict in which the fight started. One of them took a traumatic gun and started shooting. Injured three men. The shooter fled the scene.
Now all wounded are in the hospital, two participants of the conflict were delivered in Obolonsky phase control to provide explanations. Militiamen began criminal proceedings under part 4 of article 296 (hooliganism) of the Criminal code of Ukraine.
Carried out quickly-search actions for detention of the shooter. The police establishes the causes and circumstances of the event.
See also:
In Ohio there was a shooting in a nightclub, there are wounded
We will remind that earlier in Pereyaslav-Khmelnitsky 43-year-old man in an alcohol intoxication came late Friday at a nightclub with a hunting rifle opened fire.
Comments
comments