Russia threw to Donbass 64th Putin's "Humanos"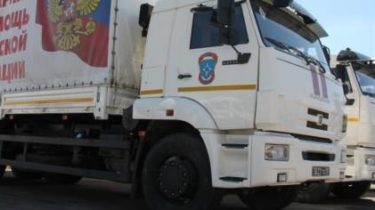 In the occupied part of the territory of Donbass was invaded by regular Russian trucks with "humanitarian convoy".
This was reported in the press center of the state border service of Ukraine.
"Today, April 27, the Russian side has unilaterally made the design of the next (64-th) so-called "humanitarian convoy". From 6.50 to 7.40 through Russian checkpoints "Donetsk" and "Matveev Kurgan" on entry into Ukraine just went 2 column the so-called "humanitarian convoy" consisting of 41 cars", – stated in the message.
As noted, the move "humanitarian" convoy again took place with gross violations of international and domestic legislation and consistent with International Committee of the red cross modalities.
The guards stressed that the Ukrainian interdepartmental group has conducted only a visual observation without performing control functions.
According to the Russian EMERCOM, the trucks were allegedly carrying baby food, one car was with medication.
"The special feature of this load is the discrepancy between the number of trucks stated in the previous note, the Russian Federation. And the car with the medication was filled only 10%", – noted in state frontier service of Ukraine.
Note, now "humulone" has already arrived to the destination in the Luhansk and Donetsk regions, where it continues unloading 400 tons of Russian "assistance".
Recall, on the eve , the militants fired at Maryinka with mortars, infantry fighting vehicles and rocket-propelled grenades. The separatists continue to bombard residential neighborhoods.
Comments
comments