The salary of the head of "Naftogaz" for the year increased more than 17 times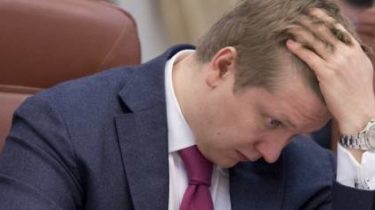 Wages of the head of the NJSC "Naftogaz of Ukraine" Andrey KOBOLEV in 2016 amounted to 19 million 323 thousand UAH 44.
This amount is indicated without regard to military duty and income tax for individuals.
Compared to the 2015 salary KOBOLEV has grown at 17.5% (18 million 218 thousand UAH 54), reports "Interfax". Relevant data are contained in his Declaration last year promulgated the "Naftogaz". From other sources KOBOLEV received only 65 cents, while in 2015, his income from other sources amounted to 5 million 1 thousand UAH 46.
See also:
NACP has questions to almost all Ministers for their returns
New real estate and auto the head of "Naftogaz" is not acquired.
As previously reported, the NACP start checking e-declarations on incomes for the year 2016 of the President of Ukraine Petro Poroshenko, Prime Minister Vladimir Groisman and Ministers. The Agency must examine the lawfulness of the state first persons of the state within the next 60 days. However, the members of the NACP and are still studying e-Declaration of the President and members of the government for 2015, officials filed six months ago – in the fall of 2016. Since the deadline they have missed the review time was extended.
Comments
comments