At the Kiev station, armed men stole guns and documents from the government couriers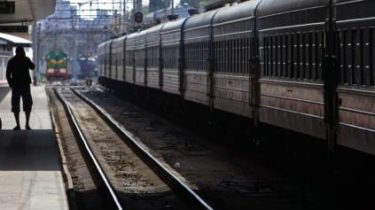 In Kiev at the Central station attacked by unknown employees of the courier service and stole their weapons and documents, introduced operational plan "Siren". This was announced by the head of the Department of communication chief Directorate of national police in the city of Kiev Oksana Blasik.
Law enforcement authorities received information about the incident on April 28 21:45.
Three government couriers carried documents support. On the platform they were attacked by armed men in black clothes.
See also:
In Kiev, four unknown assailants attacked a collector car
"The attackers took away the men a few bags of mail and two Makarov pistol. Once committed, the offenders fled the scene by car", – is spoken in the message.
Employees of the courier service were injured, one of them was hospitalized.
Police examined the scene, interviewed witnesses and witnesses, and establish all circumstances of incident. Proceed quickly-search actions for detention of suspects.
The investigative Department of Solomenskiy police Department began criminal proceedings on h. 2 art. 187 (Robbery) and part 2 of article 262 (theft, appropriation, extortion of firearms, fighting supplies, explosives or radioactive materials or taking them by fraud or abuse of official position) the Criminal code of Ukraine. To malefactors threatens till 10 years of imprisonment with confiscation of property.
As reported earlier, in hersonshchina detained an armed gangthat kidnapped 270 thousand dollars from the inhabitant of nikolayevshchina. The attackers robbed two couriers carrying cash from one local businessman to another.
Comments
comments