To see the life Lyashko behind the fence. The drone took the name of radical 15 million UAH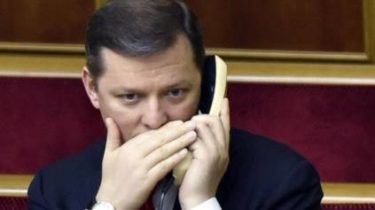 The leader of the Radical party, Oleg Lyashko suspected of illicit enrichment. Politics from journalists and the audience had the whole show and some new aphorisms, which immediately went to the Internet.
The radical of Ukraine lives in the elite village near Kiev. As pointed out by the politician himself, a house he recently rented and now bought together with the land, which is included in the Declaration.
Thanks drone journalists TSN.Week showed how lives Lyashko. Between the walls built something like a border dividing strip and a guard house or builders. On a plot of almost six thousand squares see two garages either side of the estates, each on two cars and the cottage. It is built in an unusual way: multi-storied space with outdoor terraces line up in an orderly line and not immediately say that they are connected or not. Among pines there is an outside barbecue and a children's Playground with a trampoline, walk the dogs on the back patio surrounded by sun loungers.
See also:
In Cherkasy oblast Deputy from the party Lyashko reported about suspicion in assignment of state-owned enterprises
Despite the proximity Staroobuhovskoe tracks, is comfortable. Anti-corruption bodies interested in the legality of the transaction and origin paid for the house money, which is about 15 million hryvnias. Details not yet disclosed.
The anti-corruption Bureau has invited Lyashko the interrogation. The politician arrived and in the usual manner cursed and NABOO, and the anticorruption Prosecutor's office and the President. Lyashko called the investigation into the legality of their statuses as political persecution, but in fact transactions have not said a word.
It should be said that the cottage Lyashko is not so expensive by local standards – less than a million dollars, according to the Declaration. Of $ 1-2 million is the local standard. However, for a leader who was elected as its symbol a simple peasant's pitchfork – this luxury too seriously spoils the image of the poor man of the people. The policy angered the fact of suspicion, and make it all populist talent broke into the office of the anti-corruption Prosecutor Nazar Gorodnitskogo advance taking care of live video stream on the Internet and on television. The meeting lasted 46 minutes.
See also:
If politicians were rappers. Top 5 music covers from TSN.ia
The investigation against Oleg Lyashko has just begun, and we, no doubt, waiting for the new series of property detective.
Sergey Shvets, Sergey Galchenko
Comments
comments