Press Secretary Avakov announced "fotodokazatelstvo" visit militants Zakharchenko in a sex shop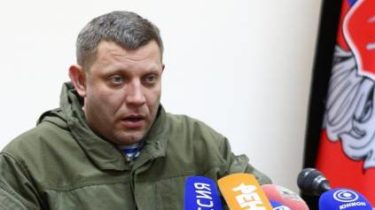 The Director of the communications Department of the MIA of Ukraine Artem Shevchenko have posted photos of the visit of the leader of the Donetsk terrorists Alexander Zakharchenko in a sex shop.
According to him, the image he received from the occupied Donetsk. While Shevchenko is too pick up the words about the gunman. "Remember exactly what this russomanno thing. Prepares to March on the Dnieper, Kiev and then to capture the hated Garou to the British Isles," wrote Shevchenko.
See also:
Fantasy Thriller Zakharchenko: "DNR" wants to coexist with Ukraine in the framework of the Confederation
It should be noted that users are convinced that the published photo is most likely a skilled work with graphic programs.
However, Zakharchenko also laughed another terrorist Igor Bezler "BES", who seized the Horlivka in Donetsk region.
Previously Zakharchenko said about the need for "resetting the state Ukraine" after the war in the Donbass. "After the war do need a broad debate, which must be resolved by reorganization of the state and even a new arrangement of the space that was previously occupied by the USSR", – said the chief terrorist-occupied Donetsk.
He spoke about giving to Russian of the status state in Ukraine, the creation of the Confederation and the introduction of dual citizenship.
Comments
comments