Congress this year plans to provide Ukraine with more than 560 million dollars in aid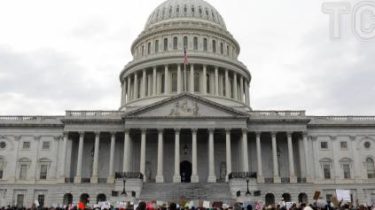 In the U.S. Congress introduced the consolidated law on budget allocations for 2017, which the program of assistance to Ukraine is planned to allocate 560 million dollars.
It is reported by the Ukrainian Embassy in the USA Facebook.
In particular, military assistance and the security of Ukraine until the end of the fiscal year (until October 1) allocate not less than 238 million dollars.
It is noted that without loan guarantees, appropriations for other programs of assistance are planned to increase to 27 million dollars, compared with the year 2016.
"It should be noted that the allocated funds to strengthen the defensive capabilities and security of Ukraine is only part of the total amount of 350 million US dollars, which can be used after October 1, 2017", – reported in the Embassy.
May 5, consolidated law must be approved by the Senate and house of representatives, and then signed by the President of the United States.
We will remind, earlier it was reported that the reduction of the new US administration of financing programs of external support, including more than 68% for Ukrainemay not be approved in the us Congress. I told about it said the former US Ambassador to Ukraine, now the Director of the Eurasian center. Dean patrício "the Atlantic Council" John Herbst.
The United States in 2018, want to significantly cut aid to developing countries, including in Ukraine. The volume of assistance to Ukraine to 2018 is the anticipated $ 570 million is expected to be $ 177 million of Reductions, as stipulated percentage was 68.8%.
Comments
comments