Bloody accident in Kiev by taxi rammed a concrete fence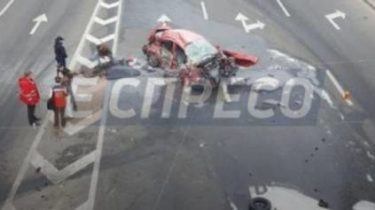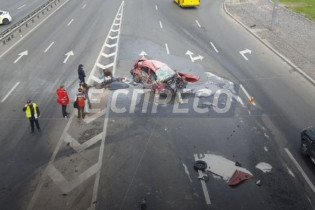 Today, may 2, in Kiev on Victory Avenue as a result of the accident killed the driver.
This is reported by Espreso.
It is noted that directly under the Vozduhoflotsky overpass in the direction of the metro station "Shulyavska" taxi driver Kia Cerato not lost control, causing the car skidded and was thrown in a chipper.
The blow was so powerful that fragments of the car scattered in radius of several tens of meters.
To avoid fire, to the place of road accident there arrived firefighters. The doctors saved a taxi passenger with a broken hand, which got out of the car independently.
In turn, the driver received fatal injuries.
See also:
Terrible accident in Dnipropetrovsk: car turned into a pile of scrap metal.
Recall that in the accident in the Poltava region killed a police inspector. April 29 on the highway Kyiv-Kharkiv near the village of SHIROKANE in Poltava was a road accident to participation of three cars. About it reports a press-service Nacpac region.
Faced VAZ-2109, VAZ-21099 and Lada Largus. The passenger of the car VAZ-2109 was killed on the spot, two more people (28-year-old driver of VAZ – 2109 and 24-the summer driver VAZ-21099) received injuries of varying severity.
The victim 24-year-old passenger and injured 28-the summer driver inspectors of Hadiach of the police Department of Poltava region.
Comments
comments