The militants "LNR" intend to visit prisons on the territory controlled media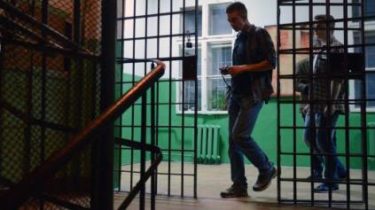 The militants of illegal armed formations "LPR" intend to visit the prisons and colonies in the controlled area of Eastern Ukraine.
It is reported by Gromadske, citing government sources.
The separatists want to visit persons detained for crimes against Ukraine to confirm or deny the reluctance of some of them to be passed in the exchange of prisoners on the uncontrolled territory.
Verification of prisoners in Ukrainian prisons separatists "LC" to begin on may 4, it is carried out with the participation of OSCE representatives and the Verkhovna Rada on human rights.
The delegation of Lugansk fighters, in particular, will be a participant of the working group on exchange of prisoners "LC" Olga Kobzeva.
See also:
Terrorists "DNR" declared about the agreement with Kiev on exchange of prisoners
It is noted that the verification process with the group "DNR" is already underway. Representatives of the Donetsk separatists have already visited several prisons on the territory controlled by Ukraine.
Recall, as reported by TSN sources among the participants of the negotiation process, some of the detained by the Ukrainian side have no desire to go back to the terrorist "DNR" and "LNR". TSN has not reported how many people of the 228 present in the list presented by the militants who refuse the exchange, but noted that such people "are not one and not two, and very, very much."
Negotiators from the militants, meanwhile, does not believe that their former colleagues refuse to go back. Also refuse from the video "refuseniks", as they could be supposedly "written under torture."
Comments
comments