Georgia missed Putin's "Night wolves" on his territory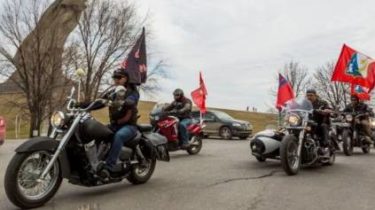 Georgia missed about 50 bikers, who represent the Pro-Kremlin club "Night wolves".
This is with reference to the Georgian media reports Interfax.
The interior Ministry of Georgia confirmed this information, noting that the bikers planned to travel to Georgia the day before through the checkpoint "Upper Lars".
The Ministry reported that the Russian bikers were denied on legal grounds.
"There is a law that regulates the rules of entry, exit and stay on the territory of Georgia for foreign citizens. It is on the basis of this law, such decision was made," – said the Deputy Minister of internal Affairs of Georgia Shalva Khutsishvili.
Earlier, the Georgian interior Ministry said that the visit of the bikers in Georgia on may 9. "not in the spirit of the holiday and is undesirable".
"Georgian border has opened for tourists and foreign citizens who respect our laws and did not visit the occupied territories. As for the Russian biker club "Night wolves", their announced visit to Georgia on may 9 we consider undesirable," – said Khutsishvili.
See also:
Putin's "Night wolves" went to Berlin
Recall, the Russian bikers every year trying to arrange the ride from Moscow to Berlin in honor of the anniversary of victory Day.
Last year three of the "Night wolves" not allowed to cross the Belarusian-Ukrainian border. The guards were not allowed motorcyclists with separatist sentiments on the territory of Ukraine to prevent possible provocations.
The Russian foreign Ministry then said that he regarded the refusal to concede in a country of bikers from the Russian motorcycle club "Night wolves" as a cynical and criminal gesture, aimed at deterioration of bilateral relations.
See also:
Putin's "Night wolves" went to Berlin
Comments
comments