MPs-truants subtracted nearly 2 million UAH of salaries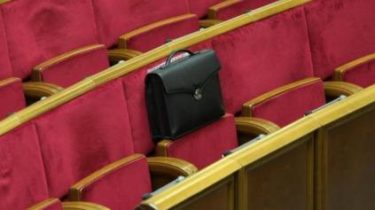 With salaries of deputies of Parliament was withdrawn UAH 1.7 million for missing meetings of the Verkhovna Rada.
This is with reference to the apparatus of the Verkhovna Rada informs the Committee of voters of Ukraine in Facebook.
In particular, due to the accrual of wages only for the days actually worked, for the first quarter of this year "was formed, savings are stipulated for payment of wages of people's deputies of Ukraine, in the amount of 1748,7 thousand hryvnias".
According to the report, only 10% (41 out of 423) deputies visited all the meeting of Parliament in 2017. Meanwhile, the rest of the MPs skipped the meeting, so they received part of their salaries.
KIA adds that there are even elected officials who did not appear in Parliament for months. So, in January-February, five MPs missed all the meetings in March and eight in April and seven.
In April, all sessions missed Dmitry Yarosh, Andrew Bielecki, Peter sabashuk, Yevhen Bakulin, Vyacheslav Boguslayev, Alexander Onishchenko and Sergey Klyuev.
In General, in 2017 it is best visited Parliament members of the National Front (86% of deputies were registered), PPB (84%) and the Radical party of Oleh Lyashko (84%).
Worst of all – "the will of the People" (64%) and Vozrozhdenie (65%).
We will remind, on April 14 , the Verkhovna Rada closed for the holiday. The Verkhovna Rada has closed at a one-month break, during which the MPs will work in committees and with constituents.
In particular, 18-21 April, and may 3-5 and may 10-12, people's deputies will work in committees, commissions and factions. Also, according to the schedule, April 24-28, elected officials will communicate with their constituents.
The next plenary meeting of the sixth session will be held on Tuesday, may 16.
Comments
comments