The military said the details of the battle with the subversive group of militants near Lugansk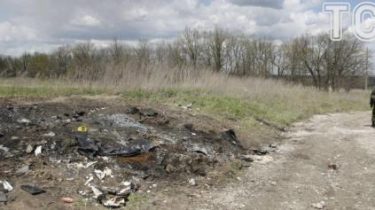 Residues from shells dot the earth on the positions near Luhansk. After the announced Easter truce, is a powerful attack on this front. The militants opened fire at midnight. The military say that before the morning was over a hundred attacks, says TSN.16.45.
Massive mortar shelling of the militants tried to push the soldiers of the 53rd brigade to land to open green corridor for two of his sabotage and reconnaissance groups. Broke Russian terrorists from two sides. Came very close, but they noticed our fighters and a fight ensued.
See also:
In the Donbass were injured, nine of the Ukrainian military. Chronicle of the ATO
"We just noticed and rebuffed. It is clear – not all gone," the military said.
Unfortunately, not without loss on our side. No fatalities, but three Ukrainian soldiers were injured.
A wounded man was taken by helicopter to a hospital in Kharkiv. The other two will soon be back on the line.
Recall that the militants fired Avdiyivka, injured civilians. Mortar fire covered the South of the city. Splinters wounded two women, damaged a few houses. In General, during the day on the Eastern front 9 Ukrainian military were injured. Most shoot on the sea of Azov. At the direction of Lugansk shelled the outskirts of the village Crimean.
Comments
comments