The media published a video of the moment of the explosion of a car of the OSCE in Luhansk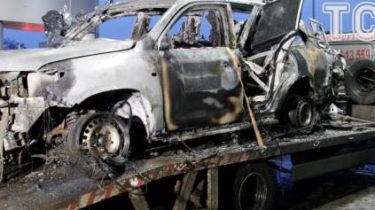 In the Internet appeared the video, which recorded the moment of explosion of the car of the OSCE on the occupied part of the territory of the Luhansk region.
The corresponding video surveillance published by "Radio Liberty".
As seen on the record, two armored vehicles of the OSCE are driving down the road on the outskirts of the village of pryshyb controlled by the militants. After a few seconds an explosion occurred in a roadside bomb. In particular, the video shows flames and a column of thick, black smoke that rises into the sky.
We will remind, on April 23, in the explosion of the car of the OSCE near Prishib village in the occupied territory of the Luhansk region killed one member of the mission, two more got wounds. The mission said that six patrol moved in two armoured vehicles when the explosion occurred.
People's Deputy of Ukraine and member of the Board of the Ministry of internal Affairs of Ukraine Anton Gerashchenko said that the deceased was a citizen of great Britain Joseph stone. Agency Reuters citing the Austrian foreign Ministry reported that the victim worker, the OSCE was a U.S. citizen.
Also the explosion was shell-shocked citizen of Germany Willow Gmelin. She was taken to a hospital in Lugansk, where she was provided medical assistance.
In turn, the first Deputy Chairman of the OSCE SMM Alexander hug believes that blowing up a patrol of the OSCE SMM in non-government controlled part of the Luhansk region on April 23 was not an accident, because cars were driving on the route, which was driving yesterday, besides the tragedy occurred on the road where they passed two hours earlier.
Comments
comments