The threat of blocking the work of the underground, the city Council stated that 26 cars will come on line because of debts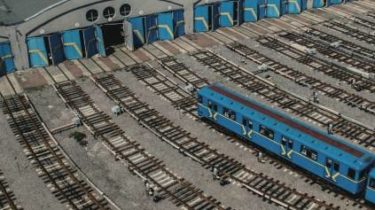 In Kiev the underground remains in jeopardy.
This was stated by the Chairman of the constant Commission of city Council concerning the budget, the leader of the faction "Solidarity" in the Kyiv city Council Andriy Strannikov on air "Gromadsky TV".
"The national security Council and defense of Ukraine still has not provided the city Council an official response regarding the actions of LLC "Ukrroslizing". The contract eight years ago with this company faces today blocking the work of underground transport in the capital", – he stressed.
According Strunnikova, now 26 cars can't go on-line, because it can not be held by their respective technical survey.
"Thus, the interval between subway trains may increase," he predicted.
In addition, the MP noted that the situation is not simple.
"According to the interim Commission of the city Council, LLC "Ukrroslizing" should be regarded as a structure directly affiliated with the aggressor – the Russian Federation. The ultimate beneficiary of the company are persons connected with the Russian capital. Kiev city Council on March 23 officially appealed to the Verkhovna Rada, SBU and the national security Council order for consideration of the NSDC meeting, urgently brought the issue of the inclusion of this company in the list of sanctions," said the Wanderers, explaining that it will not pay the minimum until it is returned to the Crimea, and until the withdrawal of the Russian troops from the Donbass.
Recall that in late March the mayor of Kiev Vitali Klitschko said that the metro in Kiev can stop from-for debts of the Moscow subway. "Threatening situation has developed around the debt, "the Kiev underground", the account of which, as you know, arrested by the court. Is direct threat of paralysis of work and stops of the Moscow metro. That is, we are forced to pay for old debts that someone took", — said Klitschko.
In turn, the Kyiv city state administration has assured that the Kyiv authorities will do everything possible to not allow metro stop, which is threatened to collapse with the arrest of all accounts, "the Kiev underground", which the court ordered to pay the company "Ukrroslizing" almost 2 billion hryvnia.
Comments
comments