Ukraine missed a Russian biker on their territory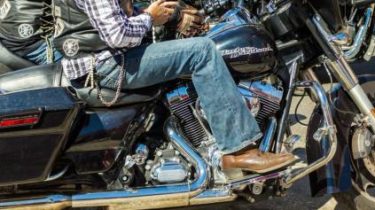 3 may the checkpoint "Novi yarylovychi" border guards are not allowed to cross the border of a biker from Russiawho could not confirm the purpose of his trip to Ukraine.
This is with reference to the state border service Interfax reported.
It is noted that biker motorcycle Suzuki explained that, supposedly, goes to a friend in Ivano-Frankivsk, however, his name and residential address could not specify.
During the inspection of personal belongings at the Russians discovered camouflage clothing unmarked.
The results of the inspection, the border guards decided to refuse the crossing of the state border.
See also:
Putin's "Night wolves" went to Berlin
Yesterday Georgia has not missed Putin's "Night wolves" on his territory. The country missed about 50 bikers, who represent the Pro-Kremlin club "Night wolves". The bikers were going to get into Georgia on the eve through the checkpoint "Upper Lars".
The Ministry reported that the Russian bikers were denied on legal grounds.
Meanwhile in Poland, the law enforcers detained the citizen of the Russian biker club "Night wolves" Nikolay Loginov. According to the representative of the biker club, Loginov has all the necessary documents, including a Schengen visa.
Action biker "Road to Victory – Berlin" was launched on 27 April from the international bike center in Nizhny Mnevniki. The bikers drove through Moscow, Smolensk, Katyn, Minsk, Khatyn, Warsaw and wrocław. The route goes through Budapest, Bratislava, Prague, Dresden and Berlin.
Comments
comments