SBU had access to mobile conversations of the leader of "DNR" Zakharchenko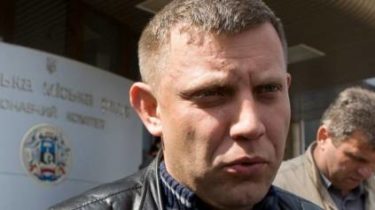 SBU provided access to information about your negotiations of the leader of fighters "DNR" Alexander Zakharchenko from 1 March 2014.
This is with reference to the decision of the court April 21, according to "Ukrainian news".
"The court granted the SBU investigator access to things and documents containing information about the date, time and duration incoming and outgoing telephone connections, with a link to the repeater and bind to the base stations and their address and the location address of the subscriber specified phone number at the time of each incoming and outgoing telephone connections from 1 March 2014 until 30 March 2017," the document reads.
Besides provided access to information on inbound, outbound, SMS, GPRS-traffic, room supplies a particular person (if the subscriber is a contract) the phone number Zakharchenko.
See also:
Fantasy Thriller Zakharchenko: "DNR" wants to coexist with Ukraine in the framework of the Confederation
"SBU established the number of the mobile phone operator "MTS", which is used by Zakharchenko during 2014 and until now", – stated in the message.
According to the request of the investigators of the Department the access they need to determine the objective truth in criminal proceedings and receive evidence of the involvement of the leader "DNR" Alexander Zakharchenko, a suspect in the creation of a terrorist organization, to commit a crime.
However, as they say, the difficult socio-political situation in the East of Ukraine makes it impossible to establish the whereabouts of the suspect and carrying on with his part of the investigation (investigation) action.
See also:
Press Secretary Avakov announced "fotodokazatelstvo" visit militants Zakharchenko in a sex shop
Recall, July 1, 2014 Zakharchenko was reported about suspicion of creating a terrorist organization and declared wanted. August 1, 2014, the court gave law enforcement officers permission to arrest "the head of DNR" to participate in the consideration of the petition for application of a preventive measure in the form of detention.
In February 2017, the Appellate court of Kiev granted permission for the detention of the leader "DNR" Alexander Zakharchenko.
Comments
comments