Poroshenko called Putin "a man with antiquated ideas about geopolitics"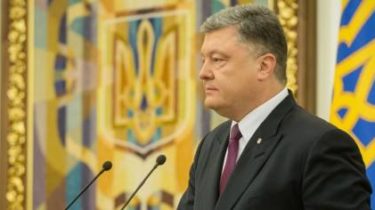 President of Ukraine Petro Poroshenko called Russian President Vladimir Putin person of the captive's antediluvian ideas about geopolitics.
"Thanks to the courage of the Ukrainian soldiers, the efforts of our diplomacy, we managed to stop active hostilities [in the Donbas]. But the fuse of war that the button world, located in Moscow. They are in the hands of man, which has Imperial ambitions, which captured antediluvian ideas about geopolitics, imbued with a profound disregard for international law", – said Poroshenko during the campaign "the First minute of peace" in Kiev.
The President of Ukraine noted that as in the days of the Second world war, the Ukrainians again today on the front, and on the territory of our state, "turned the front of the confrontation of the aggressor, the front of struggle for the values of democracy and the rule of law front for the free world".
Poroshenko noted that Ukraine has created one of the most powerful armies in Europe, which skillfully defended from Russian aggression.
"We, however, remain a consistent supporter of a peaceful settlement with Russia. However, the good will of Kiev is hampered by the absence of any reciprocal steps from the Russian aggressor, which continues the occupation and creeping annexation of the Ukrainian Donbass", – said the President of Ukraine.
Comments
comments