Shooting in Kiev store: the attacker was previously arrested for disorderly conduct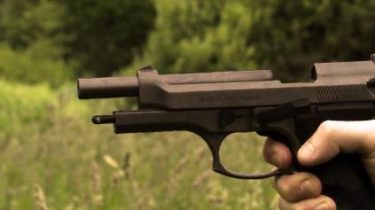 The man who staged a shooting in one of the supermarkets of Kiev and wounded the guard in the stomach, had previously come to the attention of law enforcement because of bullying.
This was stated by the head of the communication Department of the Main Directorate of the National police in Kiev Oksana Blischik in the air "112 channel".
The offender was from Kiev, 1969.
He was taken to the police Department, the man is in a state of intoxication, so law enforcement officers can not accurately and clearly identify all the circumstances and to question him as expected.
The investigative team seized all the evidence, including the gun man was shot, in order to carry out the examination.
"Because only he will be able to more or less testify, it will be clear where he got these weapons," said Blischik.
Information concerning the state of health of the victim is specified.
See also:
In chuguiv training ground during firing, killing two soldiers
We will remind, on Rusanivsky gardens vacationers night staged a bloody showdown with the shooting. At the scene it became clear that the conflict arose between the two companies, which rested there: two men provoked a fight with an opponent. As a result, one of them pulled out a gun and fired several shots.
The victim, born in 1991, was taken to hospital with wounds to his back and hip. Subsequently, he left medical institution and wrote a statement that he had no one claims.
Comments
comments