Klimkin told about the different options of resolving the situation in Donbas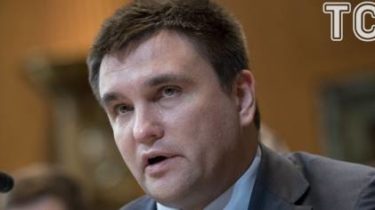 U.S. Secretary of state Rex Tillerson knows about the Russian aggression against Ukraine in detail because it was discussed and debated different solutions to the situation.
This was stated by Minister of foreign Affairs of Ukraine Pavlo Klimkin – informs UKRINFORM.
"He now understands not just the overall logic of our common position, and is aware of all the details," – said the head of the Ukrainian foreign Ministry. Klimkin hopes that the Secretary of state "to put pressure on the Russian side with the aim of implementation of the Minsk agreements.
"Whether it's a parallel process – the "Norman format" and the US pressure on Russia, we will be able to separate stages to create common elements. About it will talk", – said the Minister.
According to him, at this stage, the idea is to achieve real progress on the very important first paragraphs of the Minsk agreements – the establishment of a safety and release of hostages.
He did not rule out making a "political decision" on bringing to settlement in the East of Ukraine the United States or countries to the Geneva or "the combination of Budapest and Normandy formats".
"Discuss all these issues, but more importantly, of course, the result", – concluded the Minister.
See also:
Reliable ally in the Norman format, Poroshenko, congratulated Him with the victory
Recall that Ukraine stands for intensification of the "Normandy format" (Ukraine, France, Germany and Russia) to resolve the conflict in the Donbas.
This was stated by President of Ukraine Petro Poroshenko during participation in the action "First minute of peace".
Poroshenko added that a few hours ago he had discussed the issue with German Chancellor Angela Merkel, "under whose guidance democratic European Germany provides strong diplomatic support to Ukraine in our fight with the Russian aggressor."
Comments
comments