Ukrainian drone scattered "holiday" leaflets over the occupied Horlivka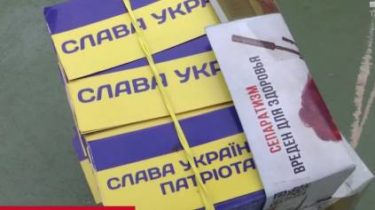 Ukrainian Aero investigation congratulated the residents of the occupied Horlivka from the air. The drones threw out two thousand leaflets directly over the parade, which was held by the rebels, so the people can see that Ukraine has not forgotten about them, according to a story TSN.19:30.
For this event we were preparing for several weeks, leaflets with various slogans booked in advance. Among those who followed the flight of the aircraft with the flyers, was the Chairman Zaitsevskii civil-military administration Vladimir Veselkin. After the arrival of the invaders, he left his native Horlivka, his business destroyed, and the property was cut up for scrap. However, the man is convinced that in Gorlovka is still many who are waiting for the return of the city under Ukrainian flag. "We are there waiting, where the Ukrainian land, where Pro-Ukrainian people. Due to the repressive methods people are silent, thinking only in kitchens, in companies, in private circles," explains Veselkin.
Video from the drone were journalists. He successfully fulfilled his mission – flying over the occupied city and dumped in the Central square of leaflets. "If there's fifteen hundred in the square – just like a postcard for each and every congratulated on 9 may. Someone nerves tickled – let the orcs rage, but normal people will rejoice, will see that they are not forgotten" – commented aeroreguelt "bullfinch". Freely the drone returned to base, avoiding the traps – station electronic warfare, which are blocking the airspace fighters.
The TSN reporter Jacob Socks
Comments
comments