At the forefront of a talented soldier with an accordion sang about Putin and avatars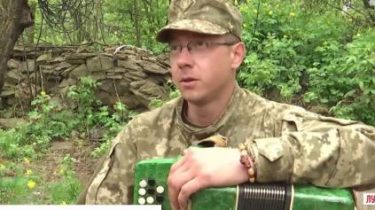 Soldier of the 53rd brigade of the novel Konovalenko, nicknamed "the Professor" became a star in his brigade because of the accordion and is not lazy to play the sister. He can perform almost everything, even "Murka", Lambada and popular in the army a song about avatars, says the story TSN.19:30.
33-year-old soldier has behind shoulders musical school, musical College, pedagogical Institute and the title of captain of the militia. "For life played four shows full, hour and a half," he admits. Now concerts every day asking for a battle sister in Luhansk – the music helps them to overcome all the difficulties of war. Grateful listeners to record the musical performances and share them in social networks where new admirers Konovalenko. "Invigorating his songs with his accordion" – recognized by the military.
In parallel with the war accordionist was a teacher in the Trinity, where hold the position of his comrades from 53 Ombre. "The school here I teach the defense of the Fatherland, and he's a musical education," – said the Deputy battalion commander with the Callsign "Stirlitz". Political officer to the work of his fighters came seriously trying to sing to the accordion itself, and has already produced the first hit about avatars, Putin and win. Say song so much to the volunteers that they gave them the drone.
The TSN correspondent Natalia Nagornaya
Comments
comments