In France, condemned sexual harassment of militant "DNR" to a member of the OSCE mission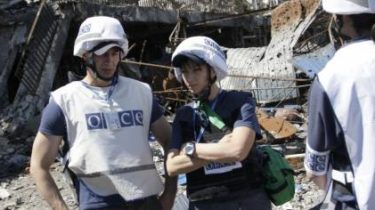 France condemned sexual harassment by militants ARDLE to one of the members of the OSCE mission in Donbas.
This is stated in the statement of the representative the Ministry of foreign Affairs and international development of France, the press service of the Embassy of France in Ukraine.
"France strongly condemns any interference with the work of the OSCE mission, in particular deliberate and systematic intimidation in her address from the separatists. Responsible must be identified and held accountable for their actions", – said the representative of the country.
Moreover, the Department urged all parties to the conflict, particularly insurgents, to ensure the OSCE mission free, unimpeded and secure access to its area of responsibility and contribute to the implementation of the Minsk agreements that are the only way to resolve the conflict in the Donbas.
"France and Germany, in the framework of the Normandy format will work tirelessly to continue to make efforts to achieve this", – assured the Ministry.
We will remind, on may 5 in the SMM, the OSCE stated about the sexual harassment by armed men in ARDLA against a member of the patrol mission are female. The woman was subjected to sexual harassment by men armed with assault rifles (AK-47), who threatened that will not allow the patrol Mission to move eastward from Peter to Sochi, while his demands are not met. The patrol left the area by another route, and JCCC informed about what happened.
Head of SMM OSCE in Ukraine Ertugrul Apakan, condemned sexual harassment to a member of the mission and appealed to the militants with the requirement to deal with this case.
After that, the militants "DNR" repeatedly refused meetings with the OSCE observersand captured by "LPR" in Luhansk, a meeting was held between mission staff and the senior ranking member of the group. However, he was not informed of any measures on elimination of violations recorded by the observers.
Comments
comments