The interior Ministry released a video with the activist in Kiev, may 9, is targeting people from a grenade launcher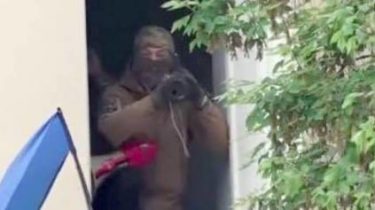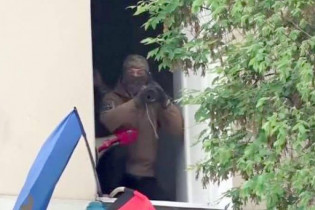 Advisor to the Minister of internal Affairs Zoryan Shkiryak released a video of the incident that occurred may 9 near the office of the OUN, with the result that broke out a clash between the activists and police officers.
The entry he posted on his page in Facebook.
"Here is a photo and video of the incident, recorded on may 9 on the street Mazepa in Kiev. In the hands of one of the "peaceful activists" grenade launcher "Fly", directed to the crowd," he wrote.
According Shkiryak, during the urgent search, which took place in the framework of current legislation, the tube was empty.
"The question is, what if not?… Who could know that in the mind of this "patriot" with a grenade launcher in his hands. Because I had to act police?" he added.
Separately, the Advisor Avakov said that the police on may 9 clearly acted legally and took the only right decision in this situation.
"No comment. This is the answer to all the insinuations and the manipulation of information concerning actions of law enforcement officers. It was about the danger of life of citizens and police officers themselves. Anyone could be at risk," said Shkiryak.
We will remind, in Kiev, may 9, one of the activists threw smoke bombs at police officers from the window of the office of the OUN. The man was detained by militiamen. In total , the police detained that day, more than three dozen offenders, including 25 6 nationalists and supporters of the Soviet Union. The first was punished for hooliganism and disobedience, the second for the use of banned symbols.
Comments
comments