The village of Sands in the Donetsk region has become a "zone of alienation" with reminders of the peaceful life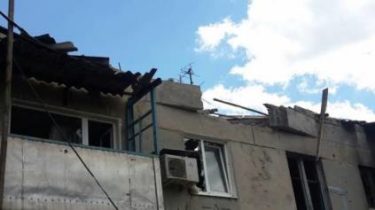 The village of Sands in the Donetsk region just today fired from mortars. This settlement near the Donetsk airport is reminiscent of the exclusion zone is closed for people under military guard there house still retain traces of lives ruined by war, as stated in the report of TSN correspondent Natalia Nagornaya.
The weapon sounds you can hear more than human steps. Until the walls collapse, through piles of debris punched flowers using rusty swing sprout bushes and trees.
The journalist was one of the few apartments that has been preserved almost as it was before the war – even wine glasses and stacks in the old cupboard doesn't get hit, and in the photo in the cupboard – happy people.
The military said that looting is not here – and not just because someone else can take bad. And because it is impossible to carry the war home.
Besides, every thing can be dangerous. In the broken garden careful every step – in child care on the floor harnesses and have the old cartridges. Found in the Sands of the at least one window is almost impossible. Details on video:
Comments
comments