Ukrainian intelligence "may have been seen planting a bomb which killed journalist" – The Guardian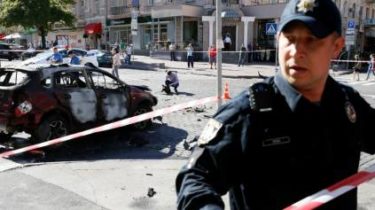 A new film suggests that a secret service agent was present at the scene when a device hidden under a car Pavel Sheremet in July last year.
This writes Alec moon in the article "Ukrainian intelligence "may have been seen planting a bomb which killed journalist", published on the website of the newspaper The Guardian.
In a new documentary argues that the Ukrainian intelligence could witness the laying of car bombs, with the result that in July of last year in Kiev, he was killed well-known journalist.
Pavel Sheremet only left his home in the Ukrainian capital and was driving to work when his car exploded. This was the murder of a reporter in the country after the decapitation in 2000 of investigative journalist Georgiy Gongadze.
See also:
The police adjusted the investigation of the murder Sheremet after the film journalists
The President of Ukraine Petro Poroshenko said that to promptly investigate the case of Sheremet is "a matter of honor." He called for a transparent investigation by the police and security services. However, after 10 months no one was ever arrested.
The movie "the Murder of Paul" suggests that the agent working in the secret services of Ukraine, was present when the bomb was hidden under the car of a journalist. On Wednesday the Project of investigation of corruption and organized crime and Slidstvo.info showed a documentary film on Ukrainian television.
Investigators said that Sheremet was killed by remote bomb, most likely because of his investigations in Ukraine and other countries. The journalist had supported the Pro-Western uprising in 2014, when Yanukovych fled to Russia, but he also sharply criticized the new government in Ukraine.
See also:
Reporters found the former employee of the SBU near the house Sheremet on the night before the murder
Footage from a security camera published by the media and by the police revealed that an unidentified man and woman approached the Subaru that belonged to Sheremet, the night before the explosion. It was obvious that the woman sat on her knees beside a parked car on the driver side.
The creators of the film "the Murder of Paul" found new records from surveillance cameras, which the police found. They provide new details about a possible assassins, who returned to the scene the next morning, shortly before Sheremet got in his doomed car.
Comments
comments