The police adjusted the investigation of the murder Sheremet after the film journalists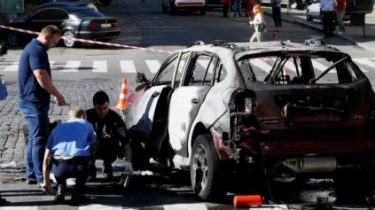 The investigation team of the National police of Ukraine in the case concerning the murder of journalist Pavel Sheremet still, Thursday morning, may 11, adjusted their actions in respect of this matter.
The Minister of internal rights Arsen Avakov told journalists after the government meeting, reports UKRINFORM.
"We have this morning adjusted the investigative actions and I think that in a short time to set the accuracy of some of the facts shown by journalists," – said Avakov.
The Minister also said that some of the information that was presented by the media is really interested in law enforcement.
See also:
The film is a murder investigation Sheremet was summoned for questioning
At the same time, the head of the Ministry of interior said that has no information about, was watched by the security Service of Ukraine with Sheremet.
"I like this unknown fact. From the beginning we studied the question concerning the involvement of each of the security services, but no materials tracking no ", – said Avakov.
We will remind, on may 10, the Network appeared the film investigates the murder of the journalist "the Ukrainian truth" Pavel Sheremet. On the creation ribbon worked journalists of the project "Classtwo.Info" and the international network of OCCRP.
The investigation revealed that the night before the murder of the journalist Pavel Sheremet in front of his house was spotted by former or current employees of the SBU. He was recorded by surveillance cameras. He was present near the house of Sheremet at least a few hours – and on this night under the car of a journalist laid the explosives.
The reporters found that the man's name is Igor Ustimenko. As of 2014 he was a member of the security Service of Ukraine.
Pavel Sheremet was killed in the center of Kiev 20 Jul 2016. The journalist was buried in Minsk. According to investigators, the attackers attached explosives to the underside of the car, at the wheel which was Sheremet. While the crime remains unsolved. In this regard, Human Rights Watch stated concern about the lack of results in the investigation of the murder of journalist and restriction of media freedom in Ukraine.
In February, law enforcement authorities reported about the investigation of the murder Sheremet. In particular, it was reported that the murder of a prominent Belarusian journalist , the attackers used anti-personnel mine mon-50. The investigation identified the priority version of the crime. In addition, the police noticed that during the investigation, was questioned 1,800 people, including more than 300 direct witnesses of the explosion, residents of homes in the area of the explosion.
Comments
comments