Gerashchenko: finished check of persons can pass in ORDA for the sake of the Ukrainians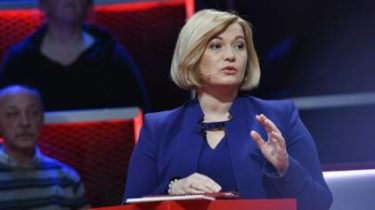 Ended verification (checking) of persons who have committed crimes against Ukraine, but which can not be pardoned, for the sake of liberation of Ukrainians-hostages illegally held in the occupied territories in the Donbas.
This was announced by the representative of Ukraine in the humanitarian sub-group Irina Gerashchenko on the page in Facebook.
"In the list of those who call for release of representatives ORDO, there are several people who do not wish to move to the occupied territories. The process of verification took place under the coordination of the OSCE with the participation of the office of the Ombudsman and the security service, also several women-mothers of those who committed crimes," she said.
"The verification process of those held in prisons and limited procedural rights, lasted from 28 April to 12 may. During this time the group traveled more than 14 thousand kilometers, visited 20 regions visited in 37 penal institutions," summed up Gerashchenko.
See also:
"Representatives of LNR" came to Kiev-controlled territory, to verify the prisoners
We will remind that earlier the Ukrainian side for the release of the hostages offered as a compromise to involve in the process of certification of signatures the office of the Commissioner of the Verkhovna Rada on human rights, the procedure will take place under the OSCE monitoring mission which directly involved to the Minsk process.
This was announced by first Vice-speaker of the Verkhovna Rada, Ukraine's representative to the Humanities subgroup of the Trilateral contact group Irina Gerashchenko.
Comments
comments