Caring and seductive. Instagram-a selection of young fitness mom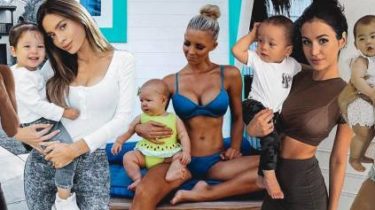 Mother's Day, which is celebrated on the second Sunday of may (this year may 14), Dnia compiled Instagram pages of young and sexy moms with perfect physical form.
See also:
Caring Marge Simpson or star Angelina Jolie. Take the quiz what is you mother
28-year-old Australian Sophie machines and has four wonderful kids – two boys and two girls. During the first pregnancy beauty gained 30 pounds and have since decided to seriously monitor their diet and to do sports. The woman seems to have reached wonderful results, as she has a slim and fit body. Watching that supermom 350 thousand users.
Another wonderful mother – Helen su from Singapore. The woman has great flexibility, she willingly does yoga and loves to swim with his tiny daughter. Subscribers she's a little over five thousand.
Hannah Politz another mom who manages to do everything – educate kids, follow his perfect figure and create exquisite lingerie. Their positive photo, she charmed more than 1.5 million subscribers.
Sarah Stage has surprised users that continued training at the gym even in the last months of pregnancy. Her son has grown up and loves to watch how mom is doing exercises. Look at photos of a happy family of more than 3 million subscribers.
Two children and 6.5 million subscribers at the attractive blonde and young mother Tammy Hembrow. Beautiful time for family and fitness, and shopping. And on hot photos, where without it.
Mom's funny toddler Chantel Duncan not only about their muscles concerned, but also helps others get the body of your dreams. Visit women besides family photos and videos, you can see videos with exercises. Subscribed to it for over half a million users.
Sonya Davison – a real Charmer. She gave birth to two beautiful twins and was able to regain the perfect shape just three weeks after giving birth. Interested in women's lives almost a quarter of a million subscribers.
Redhead babe amber Lin is unlikely to blame their children for tattoos. A beautiful woman already has a daughter and that she will give birth to a second child. Follow the life both vegans, models and model moms for more than 200 thousand users.
Comments
comments