In Kiev sell strawberries at the space prices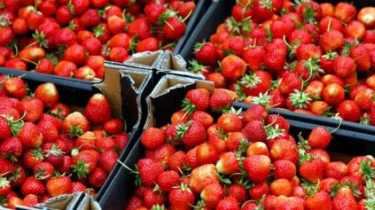 In the capital markets and in supermarkets a kilo of strawberries sell for 100-150 UAH. In may last year the prices were two times lower.
This is stated in the plot program "snidanok z "1+1".
The sellers acknowledge – prices are unavailable, therefore, putting on the scales the strawberries very often. But cheap berries even in the middle of the season did not promise, as the crop was affected by frost. Convinced that even in the season of kilograms of strawberries will cost 50-60 UAH.
Experts calm that after a few days the strawberries will be cheaper.
"If the very first strawberry in Transcarpathia cost 80 hryvnia per kilogram, now there it is already 60-65 UAH. In Kiev took the strawberry that I bought for 80 hryvnias. So at the end of this week or the next we can see the price of strawberries in Kiev within 60 hryvnia per kilogram", – predicts the head of the Association of retail suppliers Oleksiy Doroshenko.
Meanwhile, nutritionists warn that even a tasty and fragrant berries are not always safe. The real strawberry season starts in a month, and one that is already on the shelves – not a vitamin, and almost nitrate bomb, for which the body you will not say thank you.
"Like any intoxication is accompanied by damage to liver cells can cause indigestion," says nutritionist Alexander Kush.
And not to hurt neither the stomach nor the wallet, I advise you to wait at least two weeks.
Meanwhile in Ukraine fell by vegetables from the traditional set.
Comments
comments