In Luhansk for a week killed 9 militants of the gang "Ghost"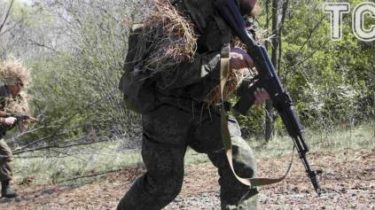 Over the past week on the territory of Luhansk region, near the highway "Bahmutka", "LPR" suffered significant losses in manpower and equipment during clashes with the military ATO.
This was announced by a military expert, co-chair KI – "Prava Sprava" Dmitry Snegiryov on his page in Facebook.
"During the recent fighting deadweight loss "of the brigade "Prizrak" – 9 persons, sanitary and more than 12 people", – he wrote, referring to the information of local residents.
According to Snegireva, in particular, killed the gunman Efremyan Armen Ruslanovich, born in 1981, resident of Kharkiv.
"According to the website "Mirotvorci", Epremian served military service in the special unit "Tiger" internal troops of MIA of Ukraine. On his page in social networks, which Freeman led under the name "Klim Voroshilov", action pointed out that the war in "the Main intelligence Directorate of Russia", – said the expert.
Moreover, it is noted that near the height 195.3 near Bakhmutskaya route the Ukrainian snipers eliminated the Russian mercenary sniper, the match lasted a day and a half.
"Among sanitary losses "brigade "Ghost"- the wounded one of the leaders of the militants Biryukov P. A. pseudo "Abramovich" and militants Supanova 1988 S. R. and Gerasimov, S. 1978," – said Snegirev.
We will remind, for last days in the East , a group of Ukrainian sappers exploded during mine clearing. One soldier died on the spot, another was injured and was hospitalized. On the frontline , two soldiers were killed, six were wounded. Fighters fire along the demarcation line: the most intense attacks in the seaside area of the front – in Shirokino, Water, Pavlopole, Chermalyk. Terrorists fired from mortars and anti-tank missiles.
Comments
comments