In Poland, the 78-year-old dijana "lights" youth dance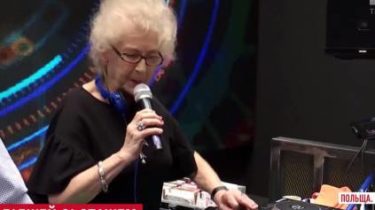 Senior didzheyka Poland Vika Schmidt in his 78 years is still playing at the disco. She argues that old age is a good time to have fun and not settling-down house, says the story TSN.19:30.
"Play from 20 to 3-4 in the morning, I have 3-4 parties a week," says dijana with 20 years of experience. Her schedule is booked several months in advance, as performances can be seen in bars, discos, parades of equality or the holidays to Polish cities. And not only Polish. "Playing in Berlin, playing in London, in Budapest itself, together with the young DJs. I had to learn how to mix music, it is necessary to have rumor is true, and you have to love," explained Vic Schmidt.
She started the party for pensioners. The former teacher works with at-risk youth decided that the pension is not a verdict, and certainly not a time to lie down, so she began to organize a dance. "I wanted people to dance and want to invite a DJ. He had to pay, but the money in the house of culture was not. And I said – if you want that the elderly people were dancing, and enjoy yourself. Here and play," – said dijana. It is most not like to mix the salsa, Rumba or rock-n-roll, and the youth and senior people on their parties because the music and dance erase age and unite different people. "Music is such an element, which shows that old age may be not only wise, but also beautiful. Those who dance – not getting older and aging those who do not know how to play," explains didzheyka.
The correspondent TSN Margarita Sytnik
Comments
comments