Protection of Yanukovych demands to hold videotapes under the international procedure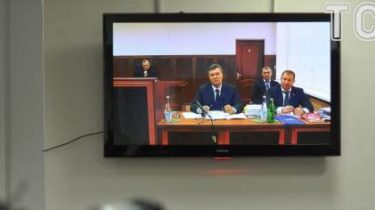 Protection deprived the title of President of Ukraine Viktor Yanukovych stated that his interrogation through a video conference should be organized by the procedure of international legal assistance.
This was stated by the lawyer Yanukovych Vitaly Serdyuk.
Protection ex-the President indicates that the Obolonskiy district court of Kiev should send a request to the Ministry of justice of the Russian Federation about the organization of the conference.
See also:
"Family" Yanukovych stole about $ 40 billion – Deputy attorney General
"This is the only valid Criminal procedure code of Ukraine procedure. But while such a request the court has not directed. At the same time, a videoconference via Skype cannot guarantee compliance with the law," said Vitaly Serdyuk.
The lawyer assured that he appealed to the Ministry of justice of the Russian Federation and the Rostov regional court with a request to arrange a video conference.
According to Serdyuk, the organization of a video conference in international legal assistance is also the only option that would "make impossible the leveling of accusation testimony of Viktor Yanukovych".
See also:
The military Prosecutor revealed in court to testify against Yanukovych
Recall, the presiding judge of Obolon district court of Kiev Vladislav Devyatko gave permission to protect the ex-President of Ukraine Viktor Yanukovych to organize a videoconference for participation of their client in trial.
Comments
comments