Poroshenko said that can prevent the bankruptcy of the HMO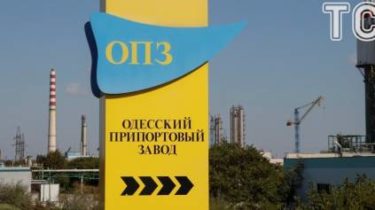 President of Ukraine Petro Poroshenko said that the government will not allow bankruptcy of Odessa portside plant. He considers this situation unacceptable.
The President said during a press conference on Sunday, may 14.
"I think it is absolutely unacceptable its bankruptcy. I think that the government will not allow bankruptcy. Including negotiations and judicial processes, and outside the country", – said Poroshenko.
See also:
Bilous: we Need mechanisms that will allow you to save the HMO and its personnel
The Ukrainian head of state believes that the only way out of this situation is the privatization of the company, "and this applies not only to the SCR".
According to Poroshenko, this autumn it will become clear when we might be holding OPP privatization.
"I hope that will offer a new candidacy of the state property Fund, will be invited to the new Advisor, and in the fall we can have a clear clarity and clear picture about the pace and timing of privatization OPP. The alternative I do not see" – he said.
See also:
Bilous: HMO resumed work
11 Oct 2016 Stockholm arbitration court satisfied the claim of the company Ostchem Dmitry Firtash to recover from the Odessa portside plant more than 250 million dollars of unpaid debt for gas supplies. Later yuzhnensky city court of Odessa region upheld the decision and gave the opportunity to implement the decision of the Stockholm arbitration in Ukraine. Then the court of Appeal confirmed that decision, effectively opening the way to the bankruptcy of the SCR.
Recall that the SCR is one of the country's largest chemical manufacturers. Ukraine has long wanted to sell the company, capable to produce 1.2 million tonnes of ammonia and 0.9 million tonnes of urea per year. The plant accounts for 7% of the European market of urea and 5% ammonia, and 90% of production is exported to two dozen countries. In August, the factory alarm stopped and the state property Fund had to urgently negotiate with the state company on gas supplies and with the Bank for deferment of debt of the plant.
Earlier it was reported that the first for the OPP wanted to 13,175 billion – about half a billion dollars, but subsequently noted that the initial price of the object can be reduced to $ 150 million. to attract more investors.
It should be noted that once the competition for the sale of JSC "Odessa port plant" was not held for lack of bids from investors.
Comments
comments