"And then gets one ass." Poroshenko commented on the antics of prankster Seduce at Eurovision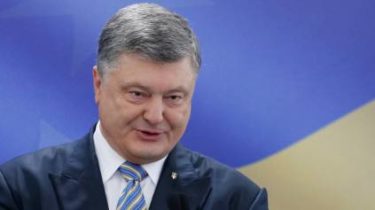 The President of Ukraine Petro Poroshenko commented on the scandalous act of the Ukrainian prankster Vitaly Seduce, which during the Grand final of Eurovision got on stage and showed her buttocks.
Garant said that the competition was held at a high level and he liked the performances of the contestants from Portugal, group ONUKA and Jamala.
"Very like, if not… there will Always be someone who will pop up, and something will show, believing that this is freedom. I think it's very bad when people in this way see an opportunity to Express themselves", – he stressed.
Poroshenko added that the organization of the competition has been invested efforts of many people.
"And here emerges one sorry ass who thinks that what the world needs to see from Ukraine. I'm definitely disappointed, but I think that the impression of the holiday have failed to ruin" – he concluded.
We will remind, speech menolascino the winner of "Eurovision" Jamala in the final musical of the championship was marked by embarrassment – at the beginning of the singer on stage ran a famous prankster Vitaly Seduc. Kicker just on the stage bared buttocks.
Interior Minister Arsen Avakov said that detained Seduce the guards of the competition together with the police, and Prancer "resisted arrest". Regarding the antics Seduce open proceedings under article 296 part 3 – hooliganism with aggravating circumstances.
Comments
comments