"I am not a businessman." Poroshenko said the net profit of your Bank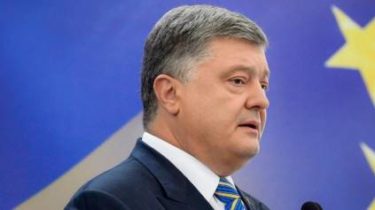 The President of Ukraine Petro Poroshenko during the pre-conference , explained why the income of the International investment Bank, which he owns, increased by 278%.
The journalist Dmitry gnap announced that the Bank President over the last quarter have increased their incomes.
"I'm not a businessman. I learned this information from you," said Poroshenko in response.
Ukrainian guarantor added that the Bank received the Central Bank reserves.
See also:
Poroshenko filed e-return: $ 26 million in the accounts, and countless companies
"Why it happened – I also made inquiries. Because last year during the inspection of the National Bank, and here all were equal, was assessed reserves. And Bank the profit directed on formation of reserves, fulfilling the requirements of the National Bank… the Profit is not linked to cooperation with any state position and the Bank is in control of the company on assets management", – he explained.
Poroshenko also stressed that it can not transfer the management of Bank abroad: "Because it is necessary to change the registration. Ukrainian residents in a blind trust do not take".
We will remind, earlier Poroshenko said that the Verkhovna Rada of Ukraine adopted the statement of the head of the NBU Valeria Gontareva's resignation. The guarantor considers it appropriate to dismiss Gontareva only when will found her replacement.
"I have several candidates, but don't discuss them in Parliament, I think it is incorrect to call them," he said.
Comments
comments