"In Moscow no one expected." Klimkin revealed details of a meeting with trump and told about the reaction of the Kremlin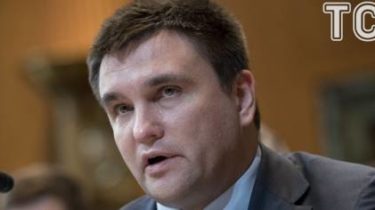 Russian propaganda claims that the White House just used the Ukrainians to extinguish the scandal with the Kremlin's influence on trump. Western media, on the contrary, notice that a meeting of the American President with the Ukrainian Minister negates Moscow's attempts to impose his view on the occupation of Donbass.
These and other issues and also about the unknown details of the meeting with Donald trump in the oval office in an interview with TSN.Week said the Minister of foreign Affairs of Ukraine Pavlo Klimkin.
See also:
Poroshenko boasted sparkling conversations with trump and told about the United States in Normandy format
In particular, Klimkin said that the meeting with the American leader signaled support for Ukraine.
"In fact, the main result is a clear message of support for Ukraine. Anyway, the meeting itself is a very strong signal of support. Since American presidents do very rarely meet with foreign Ministers. In principle," — said Klimkin.
In addition, the head of the foreign Ministry of Ukraine stressed on the atmosphere of the meeting.
"The second point, if you want — it's the atmosphere, ambience and intense positive emotions at the end of the meeting we talked about the support of its Ukrainian on his meeting with the Ukrainian community during the election campaign and how he remembered these meetings, saying that Ukrainians are cool. In this moment I also really liked. And one of the main political signals — and it is also very important is a real desire to be involved in the pressure on Russia. There is a very interesting idea, I mean, these interesting ideas will be able to tell later on when we coordinate among all your friends, and of course any issues will need to be negotiated with Germany and with the newly elected President of France," he said.
Comments
comments