In the SBU called the initiator of the protests in Ukraine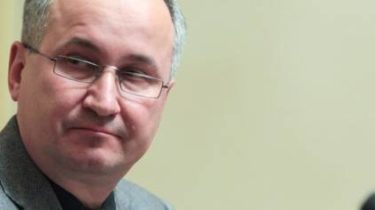 Ukrainian special services have exposed one of the organizers of the provocative protest actions in destabilizing the situation in Ukraine.
This was during the briefing said the Chairman of SBU Vasiliy Gritsak.
"We see the whole system is not isolated cases in any particular place or action, devoted to the particular event. We see the system work the (Russian) security services," he said.
According to Hrytsak, one of the initiators of the so-called protests in Ukraine is the leader of the radical organization "Emery" Nicholas Dulsky, who is now hiding in Moscow.
"I don't want to accuse all representatives of the "Emery", which continue to operate in Kiev to participate in public and political life of the capital of Ukraine, I would like to say that, traditionally, intelligence agencies are now hostile to us countries use a method such as recruiting from among the Patriotic citizens of their agents. Another option is the introduction of its sources in a Patriotic environment", – said the head of the SBU.
In addition Hrytsak assured that Dulsky involved in the action, when the alleged poles blocked the road in the Lviv region, as well as meeting in Exactly, which called for the creation of so-called "Rivne people's Republic".
We will remind, "the poles" near Lviv turned out to be drug addicts and alcoholics from several areas. The action with blocking the road and burning tyres in the village of Ridge in the Lviv region with the participation of the alleged activists of the "Polish community of the Lviv region" was another anti-Polish provocation.
Comments
comments