The militants doubt the reluctance of hundreds of their accomplices to return in ORDO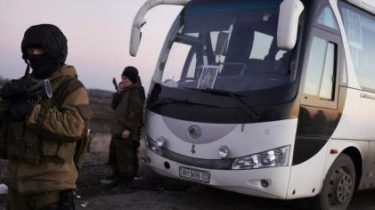 Representatives of illegal armed groups in Eastern Ukraine, doubt the reluctance of hundreds of his supporters after the exchange of prisoners return to some regions of Donetsk and Lugansk regions (ORDA).
This was at the end of the Tripartite meeting of the contact group in Minsk said Daria olifer, press Secretary of the Ukrainian representative in the group, Leonid Kuchma.
According to her, the main issue at the meeting of the group was the verification of the prisoners of the separatists, who are in Ukrainian prisons. A few hundred people after his release did not want to return to the occupied territories. In order to check this, from April 28 to may 12 was carried out the verification.
See also:
In the SBU reported the exact number of hostages from the militants and prisoners in Russia
According to burden, the survey of the hostages was attended by representatives of the OSCE, the SBU, the Ukrainian office of the Ombudsman and several mothers of the separatists who are sitting in Ukrainian prisons. For two weeks the group traveled more than 14 thousand kilometers were in 20 regions of Ukraine, visited 37 of the penitentiary institutions.
"The survey was carried out in accordance with international standards, have been thoroughly complied with both privacy and the norms of international humanitarian law," said olifer.
The Ukrainian side stressed that the verification is completed, now need to harmonize the lists and appoint the date of the exchange of prisoners. However, the representatives of the militants doubt the reluctance of some of the hostages to move to non-government-controlled part of Donbas.
"As a gesture of goodwill, Ms. Lutkovska (Verkhovna Rada Commissioner on human rights Valeria Lutkovska) will verify this information and will give its opinion. The final results will be processed OSCE", – said the press Secretary of Leonid Kuchma.
See also:
Gerashchenko announced the new number of Ukrainian hostages in the Donbas
We will remind, the so-called delegation of the self-proclaimed "LNR" visited Kiev-controlled territory for the process of verification (verification) of prisoners. Prior to the "LPR" for humanitarian Affairs of the Contact group Olga Kobzeva reported that the Kiev at the last meeting of the subgroup agreed with the proposal of the militants "LNR" and "DNR" to conduct a verification of prisoners representatives of committees of mothers. At the same time the representative of Ukraine in the humanitarian sub-group Irina Gerashchenko said that Kiev-controlled territory of any "delegation LNR" is not allowed.
Comments
comments