"We're in the same boat." Poroshenko invited investigative journalists murder Sheremet at the meeting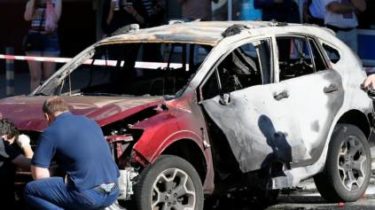 President Petro Poroshenko invited the three journalists-investigators of the murder of Pavel Sheremet, Dmitry Gnap, Mary Artovskoy and Michael Weaver — for a personal meeting on may 18.
The proposal the President made during a press conference on may 14.
The journalist Dmitry gnap Poroshenko put a sharp question: the FBI is attached only to the analysis of explosives, they had not been attracted to investigative techniques and video analysis (in the case of Sheremet).
See also:
The journalists came to the conference Poroshenko in t-shirts with the inscription "Who killed Paul?"
The journalist stressed that the incident has "laundered" the utility that is suspicious.
What Gnau Poroshenko said that wherever "the FBI can assist, they were involved".
In addition, he noted that according to the data that he previously submitted the former head of the national police Khatia Dekanoidze, the place is not washed, the fire after the fire was filled with fire. Anyway, Poroshenko added that "money" places you can investigate separately.
"We are in the same boat, I'm just like you interested in the truth. Tell me, what steps should the President — and we'll do it," he said.
Then he invited investigative journalists murder Pavlo Sheremeta (Dmitry Gnap, Mary Artovskoy and Michael Weaver) to their meeting on Thursday, may 18, on this issue.
Recall President of Ukraine Petro Poroshenko declared that eks-the employee of SBU Igor Ustimenko, who was seen near the house of Pavel Sheremet, the night before the murder of the journalist, questioned on Monday, may 15.
Comments
comments