In the Donbas the militants shot the deserter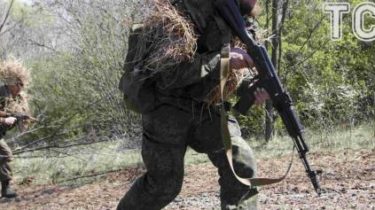 In the compounds of the militants in the Donbass because of abuse of the commanders position, growth of conflicts in the relationship between them and subordinates, as well as systematic extortion of money on the "needs unit" and the delay of payment of money, there has been an increase in cases of desertion.
About it reported in a press-service GU of the Ministry of defense intelligence of Ukraine.
"A soldier of the 7 separate mechanized infantry brigade (Bryanka) 2 AK deserted with weapons. During attempted arrest by military police used the weapon and was killed", – stated in the message.
Moreover, in the last week from the front line ran five soldiers 9 private infantry assault Marines (Novoazovsk) 1 AK.
According to scouts, two of them were detained by the locals when the mercenaries tried to steal property from vehicles in the Parking lot.
"A group of servicemen of the 11th separate cavalry regiment (Donetsk) 1 AK weapons left front stance and robbed a grocery store, took the stolen alcohol and food," added the Ukrainian military, noting that one of them subsequently found near the crime scene in an unconscious state with signs of alcoholic intoxication.
We will remind, earlier in Donetsk region "marine DNR" shot colleagues. The sentry opened fire, killing one and injuring another mercenary.
Comments
comments