Rada has banned a St. George ribbon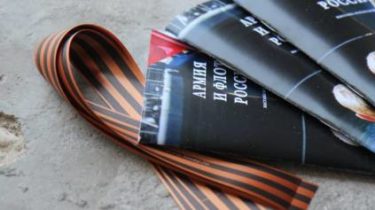 Today, may 16, during meeting of the Verkhovna Rada deputies adopted a decision to ban the manufacture and promotion of the St. George ribbon.
For a decision voted 238 members of Parliament. Of them 97 MPs from the faction of the BPP, 57 – from "people's front", 26 non-faction deputies, 21 – from "Samopomich", the only two from the group "Renaissance", 12 from "Batkivshchyna", 18 RPL and from 5, from "the Will of the people". Not a single vote "for" bill not received "Oppositional block".
In the explanatory note to the document States that it provides for administrative liability for the production and promotion of St. George ribbons.
"Propaganda George (guards) ribbon is a public use, display, possession, and distribution of St. George (guards) of the band or its image", – stated in the text.
See also:
In Kiev, detained a number of people from St. George ribbons
Along with the screening of the film during mass events, images on posters, stickers, postcards, and wear clothes, things, mount on cars, the use of modern works of art, use of media and more.
We will remind, already more than two years in Ukraine continues the reform policy of national memory, which is better known under the name of "decommunization". According to the Chairman of the Ukrainian Institute of national memory of Vladimir Vyatrovich, decommunization in Ukraine is 90% done.
Comments
comments