"Vote, I say." Latvian candidate in swimsuit quail club hit for the sake of agitation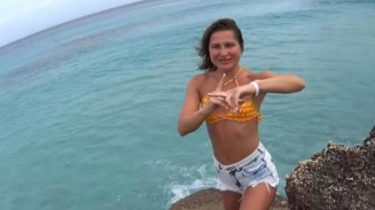 The candidate in deputies of the Daugavpils city Council in Latvia (in Daugavpils) Svetlana Lonskaya published online his campaign song with a clip to the elections on 3 June under the name "Sveta candidate."
Video was published a few days ago — may 15 — but it's already gathered more than 75 thousand views.
See also:
If politicians were rappers. Top 5 music covers from TSN.ia
So, the politician urged the electorate to exercise its will with the words: "vote, I say," in particular, parading in a swimsuit on the beach.
"It's time to break the stereotypes! 3 June 2017 in Daugavpils will pass elections in self-management. I, Svetlana Lonskaya, running under number 6 of the list of No sirds Latvijai. I – such as it is, without husk. Student trainer at ZUMBA fitness, responsible and honest person with an active lifestyle. I know how to make life in this city more interesting and richer, to turn in the Duma the face to the residents and the cooperation with taxpayers," wrote revelation in the description to video in YouTube.
Meanwhile, the Latvian media confirm that revelation appears in the lists of the CEC.
"Out of time talking heads in ties and no obvious cliche! The government must be people – like you all, like me. I call a spade a spade and do not give unrealistic promises. I know how to work and ready to do it for the benefit of my beloved Daugavpils.
Support me in the elections on June 3, putting a plus sign next to my name!" — also added revelation.
Note that the Bologna song is a cover of the club hit of 2016 under the name "Toastmasters".
We will remind, earlier employees of the emergencies Ministry of Belarus presented the Network your cover of the popular song "the ice is Melting," group "Mushrooms". The video with the words "Someone cute, we soak" has won the favor of users in a few days, with over 40 thousand views in the first few days after publication, and today more than 200 thousand views.
Comments
comments