Trump gave the sword to "fight the press"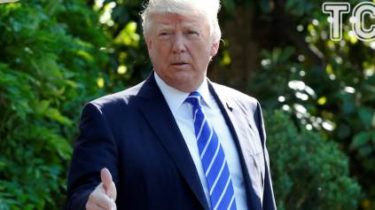 The head of the Department of homeland security John Kelly jokingly advised us President Donald Trump to deal with the press, using swords, which he gave at a graduation ceremony at the Coast guard Academy.
On it informs CNN, which showed footage of joke official.
Note that your tip he said off microphone, but the media still managed to capture this moment. "Use this against the press, sir," said Kelly, President Trump.
"Yeah, right," he replied with a smile trump.
DHS chief caught on hot mic jokingly telling Trump to use his new Coast Guard ceremonial saber on the press https://t.co/pQcjGf4Wtj pic.twitter.com/FuVhABr4z5
— CNN (@CNN) may 17, 2017
See also:
Democrats in Congress called "on the carpet" trump and Komi
Donald trump spoke at the graduation ceremony at the Coast guard Academy in new London.
We will remind that the President of the United States Donald trump, it seems, used some lines from the speech of the main character of the movie "legally Blonde".
At least sure of that popular American TV host Jimmy Fallon.
In his program, The Tonight Show he put together the pieces of the video performance of trump liberty University, and stills from the film "legally Blonde" when the main character of the film stands with a graduation speech.
Judging by the video of Jimmy Fallon, they were talking about the same things and the same words.
We will remind, earlier American edition of the New York Times, citing current and former U.S. officials said that the President of the United States Donald Trump handed to the Minister of foreign Affairs of Russia Sergey Lavrov, the secret informationreceived from Israel.
According to interlocutors of the edition, trump revealed information that could jeopardize an important source of American intelligence in the "Islamic state". This information was provided by the US partner using top-secret intelligence information sharing mechanism.
Adviser to the national security of the United States Herbert McMaster said that trump could not reveal to the Russians the source of the intelligence during a meeting with the foreign Minister of the Russian Federation, and during the communication with the Russians "there was nothing that you don't know from reports in the public domain".
Comments
comments