In India born kid-"Cyclops"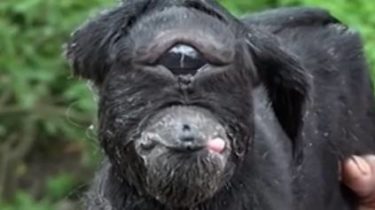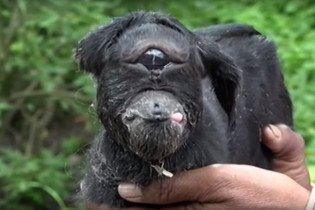 The unusual animal was born in the state of Assam in India a week ago. The kid has only one eye, without eyelashes and eyelids, one ear and no nose.
The vets thought that he would die in a few days, but was wrong — the baby survived. The locals took him for a Holy creature and began to worship him, reports the Metro.
The owner of the goat Mukhuri Das says he was shocked by the appearance of the baby. Now he considers it his duty to take care of him.
See also:
For animal abuse from now on, Ukrainians will face a large fine or imprisonment
People believe the emergence of such a miracle kid and come to him with the hope for good luck. This popularity pleases its owner.
Numerous media outlets have published online a video with animals that are gaining popularity among users.
Meanwhile, the reason for this "miracle" is cyclopia — a defect in the development of animals in which the two hemispheres of the brain do not share. This produces a single Central cavity with one eye or merge separate eyeballs. Such cases repeatedly found among the horses, pigs, cows and cats.
We will remind, earlier in India, the tourists wanted to take pictures with a Cobra, however, she bit him and he died. Cobra on the neck of the tourist, as usual, put the snake Charmer, but then something went wrong.
Comments
comments