Kharkov Yaroslavl millionaire is willing to buy a "daughter" of Russian banks in Ukraine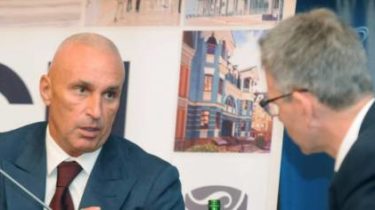 Ukrainian businessman, owner and President of DCH group Alexander Yaroslavsky plans to purchase Ukrainian "daughter" of the Russian "Vnesheconombank" — "Prominvestbank".
This is reported by the DCH website on Friday, may 19.
"Soon DCH is planning to submit an application to the national Bank of Ukraine to start the required to purchase Prominvestbank conciliation. The Chairman of VNESHECONOMBANK Sergey Gorkov in his briefing said, "the response by the NBU, will be waiting for him", — stated in the message.
See also:
Rich and classified. An exclusive conversation with the man called "master of Kharkiv"
Note that on 18 may, the Supervisory Board of Vnesheconombank (VEB, Russia) consider the proposal of DCH on the purchase of "Prominvestbank" (PIB), a subsidiary of VEB in Ukraine.
Also said that Yaroslavsky told reporters that for a long time interested in buying Bank assets: "negotiating with Sberbank on the purchase of its Ukrainian subsidiary, signed an agreement of intent, conducted due diligence. However, the seller eventually reneged on the agreement".
Therefore, as explained in the press service of DCH, Yaroslavl started to consider other possibilities and settled on Pibe.
Add that earlier, namely in 2016 Yaroslavl has already stated its interest in investing in the Ukrainian banking sector, and that studying the possibility of acquiring one of the three "daughters" of Russian banks in Ukraine.
At the same time, the Russian newspaper "Kommersant" informed that on the same day reported that Yaroslavl is included in the list of bidders for the purchase of the PIB, making the web a proposal at the end of last week, and on may 18 on the candidates for the acquisition of PIBA was informed the Supervisory Board, whose meeting was chaired by Prime Minister of Russia Dmitry Medvedev.
Kommersant recalled that one group of potential investors is already known — it includes developer, founder, MosCityGroup Paul Fuchs (in Russia the bankruptcy claim is going to the Bank "Discovery" — ed.) and the Deputy of the Verkhovna Rada Maksym mykytas.
Comments
comments