In the UGCC declare the destruction of the Cathedral in Kiev due to the development of the historical landscape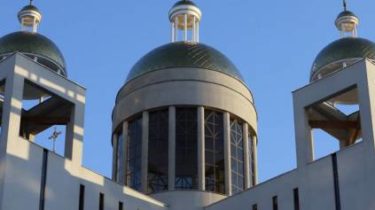 In the Ukrainian Greek-Catholic Church claim that the Patriarchal Cathedral of the resurrection of Christ in Kiev collapses due to lack of due process adjacent construction on Nikolskaya Slobodka.
See also:
From Theatre on Podol to VIP skyscraper on Grushevskogo. What are building more angered Kiev
Tsakoniki noted that the developer has resumed construction work without conducting negotiations to eliminate the possible detrimental impact of buildings. In addition, state regulatory authorities did not provide any examinations, and the statements of the city authorities about the reduction in height has also remained the words.
For the UGCC also claim that the developer carries out construction and landscape works on land which is the property of "Oschadbank".
"The Church, further defends the position that must be maintained purpose of land around the Patriarchal Cathedral of the UGCC, subject to the requirements for the conservation of the monument landscape "the Historic landscape of the hills of Kiev and the Dnieper river valley", taking into account the coastal protection zone of 100 meters", – reads the statement.
We will remind, under threat of destruction due to the developers constantly is Sophia of Kyiv national reserve, which is protected by UNESCO. The construction of the so-called buffer zone of the monument – on the territory of the Upper city are carried out without adequate research on the impact on the physical conditions of existence of the monuments of the complex, as well as on the historical and urban environment. So, due to the construction, in particular, raises the groundwater level, which can lead to subsidence and destruction of the Cathedral.
Comments
comments